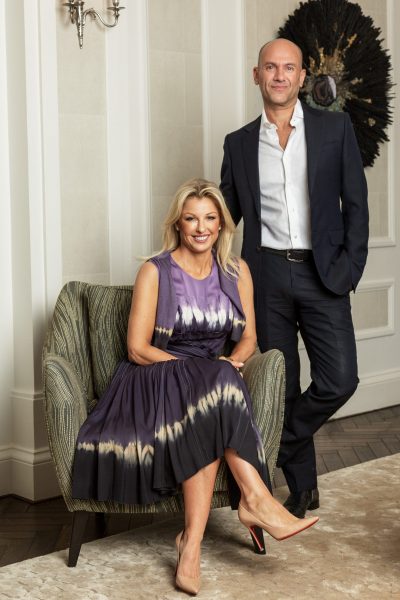 Our Founders
"We exist beyond the constraints of saying what people want to hear. We'd rather say what needs saying. We are a foundation in the true sense; driven by an ethos that helps others do what they do best."
Driven by their desire to create an enduring positive impact on the community, David and Sallie Prior founded the Prior Family Foundation in 2015 with an underlying principle that the earth needs our help, starting right here on the lands and in the waters we owe so much to.
David and Sallie recognise that so many of the challenges that we collectively face are masked behind agendas, half-truths or posturing. They are both driven by finding and backing solutions that get to the heart of issues to enable the preservation of our environment, protect our most vulnerable animals and honour our cultures.
Mark Marcou
Chair
Mr Marcou has built a diverse professional career firstly in chartered accounting with Coopers & Lybrand and progressing to become a partner in a general private accounting practice.
After securing his law qualifications Mr Marcou moved into the legal profession and is currently a Partner within Frenkel Partners where over his 10 years with the firm he has developed broad based legal experience.
Mr Marcou has a Bachelor of Economics from Monash University, Bachelor of Laws from La Trobe University and a Master of Business from Victoria University.
David Prior
Director
David is a passionate philanthropist and entrepreneur who holds duel titles of Founder of the Prior Family Foundation and Owner-CEO of Scotland-based Bladnoch Distillery. The original founder of popular organic dairy brand five:am, David is intrinsically connected to the idea that people and the environment must look to co-exist in a balanced way if we are to preserve Earth's natural wonders.
David is driven by an unwavering sense of environmental justice and is fast becoming recognised for leading the way on sustainable and environmentally responsible business practices.
David holds a Bachelor of Business from Monash University and a MBA from the University of Melbourne.
Sallie Prior
Director
Sallie Prior has always had a burning desire to make a lasting community impact, which proved to be the catalyst for Sallie becoming a Founder of the Prior Family Foundation.
Sallie previously held a senior executive role in fashion before pursuing her passion for social and community work. Sallie believes if something is wrong in society then you should speak up and take action, and has the ability to do this through both the Prior Family Foundation's support of important causes as well as in her direct personal contribution in advancing community action.
Alan Logan
Director
Mr Logan has extensive investment experience built over a career in leadership roles within the Australian financial services industry spanning superannuation, funds management, banking and financial planning.
He is currently the Principal Consultant at Marcona Partners, focusing on investment risk management, portfolio construction, governance and bringing quality financial advice to more Australians.
He holds a an Advanced Diploma of Financial Services (Financial Planning), a Masters of Business Administration and is a Graduate of the Australian institute of Company Directors.
Vidusha Ganegoda
Foundation Partnerships & Operations Manager
Vidusha is a Chartered Accountant with experience across public practice and ASX listed companies in the beverage & technology sector.
Working with Prior Family Foundation provides Vidusha a deep appreciation for organisations that are seeking to create a positive and enduring impact within communities domestically and internationally.
In her role, Vidusha is committed to supporting the philanthropic projects and programs of these organisations that share the same values as the Prior Family Foundation.
Dave 'Rasta' Rastovich
Surfer and Environmentalist
A renowned freesurfer and leader of campaigns against fish farms, offshore oil drilling and other threats to our oceans.
Glen Casey
Surfer and Environmentalist
Founder of Patagonia Australia, Glen is a passionate surfer and a fierce protector of nature. His activism ranges from his early work to defend rainforests of the Otway Ranges to the work he does now for the conservation of the Great Barrier Reef.